Your Best Wishes is a song from "
Best Wishes, Winnie the Pooh
," an episode of
The Book of Pooh
.
Pooh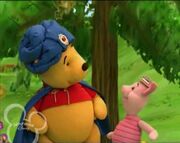 thought he had the ability to make his friends' wishes come true, so he was disappointed when he found out that he couldn't really do that. So, he sang about it in this song.