I'm not sure if this is the right forum to ask this question.....Does Winnie the Pooh like marmalade? I have a Gorham music box (circa 1970's) that has Winnie sitting on top of a brown suitcase. He is wearing a blue rain slicker with yellow turned back hat. He is sitting in the corner of this 3 legged suitcase watching a pot of marmalade turn around in front of him while the music plays. On the underside of this music box is a label stating "From the gift world of Gorham. Made in Japan. I am unable to find another music box like this one. Can anyone help me find more information on it? Why doesn't Winnie's turning pot have honey written on it instead of marmalade? It's a mystery.
Lynne Crowell lynne1639@sbcglobal.net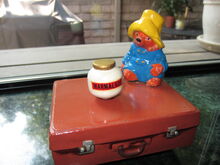 Ad blocker interference detected!
Wikia is a free-to-use site that makes money from advertising. We have a modified experience for viewers using ad blockers

Wikia is not accessible if you've made further modifications. Remove the custom ad blocker rule(s) and the page will load as expected.