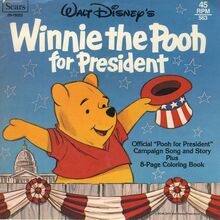 Winnie the Pooh for President is the campaign in Disneyland, and a song was sung by Sterling Holloway and Larry Groce.
About
Those looking for sweeping change in the White House were hilariously heartened as Disneyland celebrated the Winnie the Pooh for President campaign in election years 1972 and 1976. Running under the slogans "Pooh in '72" in 1972 and "Winnie's a Honey of a Candidate" in 1976, Pooh was treated to a ticker-tape parade on Main Street, U.S.A. and appeared in a special stage show with campaign manager Eeyore and press secretary Tigger. His campaign promises may not have included a heffalump in every garage and hunny in every pot, but, if elected, President Pooh would certainly have put a smile on every face.
Ad blocker interference detected!
Wikia is a free-to-use site that makes money from advertising. We have a modified experience for viewers using ad blockers

Wikia is not accessible if you've made further modifications. Remove the custom ad blocker rule(s) and the page will load as expected.