Winnie the Pooh Songs
Talk

0
512pages on
this wiki
The world of
Winnie the Pooh
contains n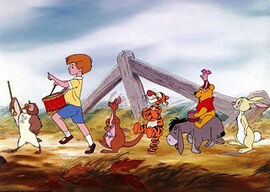 umerous songs in a variety of genres. It has songs performed by the characters and by many popular guest vocalists, such as
Carly Simon
and
Kenny Loggins
. Below is a list of all
Pooh
songs currently featured on
Winniepedia
. For films, songs are listed in their order of appearance in the film, where possible. Please correct if you notice any that are not sorted correctly chronologically.
Theme Songs
"When The Love Bug Bites"
"Girls are Like Boys"
"The Question Song"
"Nothing Can Bounce Like A Tigger"
"Lumpy's Lullaby"
"A Stench Of My Own"
"Don't Wanna Wear A Shell No More"
"So Much Fun in the Snow"
"Miss My Tail"
"Vegetable Orchestra"
Poohs Heffalump Halloween Movie
"Daring To Be Scaring"
"Whatever Comes Along"
"Trick R Treating With Our Friends Finale"