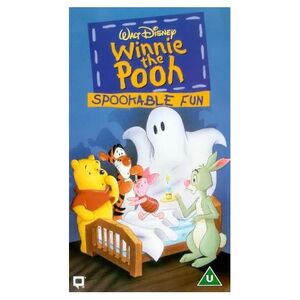 Winnie the Pooh's Spookable Fun is a Walt Disney video release containing five terror-themed episodes of The New Adventures of Winnie the Pooh. Despite its supposedly frightening content, the shows are, like most Winnie the Pooh productions, rated G and suitable for children of all ages.
Content:
Its DVD release in 2005 also included the 1996 Halloween special Boo! to You Too! Winnie the Pooh.
Ad blocker interference detected!
Wikia is a free-to-use site that makes money from advertising. We have a modified experience for viewers using ad blockers

Wikia is not accessible if you've made further modifications. Remove the custom ad blocker rule(s) and the page will load as expected.