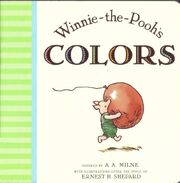 Winnie-the-Pooh's Colors is a board book targeted at very young audiences, inspired by A.A. Miline and featuring "illustrations after the style of Ernest H. Shepard. Each page features a single sentence with a particular color and an illustration depicting that color. The featured colors are blue, yellow, green, purple, brown, orange, red, gold, gray, pink, white and black. The book was published in 1995 by Dutton Children's Books, ISBN 978-0-525-42083-5.
Characters
Ad blocker interference detected!
Wikia is a free-to-use site that makes money from advertising. We have a modified experience for viewers using ad blockers

Wikia is not accessible if you've made further modifications. Remove the custom ad blocker rule(s) and the page will load as expected.