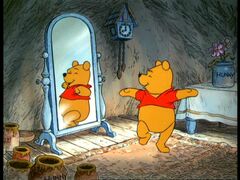 "
Up, Down and Touch the Ground
" is a song from the 1966 featurette
Winnie the Pooh and the Honey Tree
. It was also subsequently incorporated into the 1977 film,
The Many Adventures of Winnie the Pooh
, which is an amalgamation of the three previous Winnie-the-Pooh featurettes, including
Honey Tree
. In the song,
Winnie the Pooh
's exercise makes him hungry, and although he over-eats, he is proud of his fat stomach and he exercises to gain weight and grow even rounder.
The song was written by Robert & Richard Sherman, who have written most of the music for the Winnie-the-Pooh franchise over the years.
Lyrics
Up-Down-Up
When I up, down, touch the ground
it puts me in the mood
Up, down, touch the ground
in the mood (smacks lips) for food
I am stout, round and I have found
speaking poundage-wise
I improve my appetite
when I exercise
(ripping sound)
Oh stuff and fluff
(ties his back together again)

That's better
(reflection in the mirror talks back)
Thank you
Now, where was I?
(grumbling sound from stomach)
Oh, yes, I'm rumbly in my tumbly.
Time for something sweet
I am short, fat, and proud of that
and so with all my might
I up, down, up-down
to my appetite's delight
While I up, down, touch the ground
I think of things to chew
(Like honey, milk, and chocolate)
With a hefty-happy appetite
I'm a hefty-happy Pooh.
With a hefty-happy appetite
he's a hefty-happy Pooh.
Ad blocker interference detected!
Wikia is a free-to-use site that makes money from advertising. We have a modified experience for viewers using ad blockers

Wikia is not accessible if you've made further modifications. Remove the custom ad blocker rule(s) and the page will load as expected.