Not to be confused with Pooh's Grand Adventure: The Search for Christopher Robin
The Search for Christopher Robin is an online flash game on disney.go.com/disneyjunior. and is compatible for Windows® 98/2000/XP/Vista/7/Server 2012/8/8.1/10.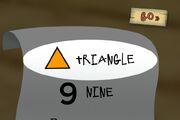 Walkthrough
First, help Pooh get to Owl's House. Owl will tell that the first clue is a shape. Follow and collect the shapes to Eeyore. Eeyore will see numbers to Rabbit's House. Follow and collect the numbers to Rabbit. Rabbit will see Piglet blow by along with a lot of letters. Help Piglet catch letters and find Christopher Robin. When Piglet misses a letter, the letter Piglet misses will magically move rightly, causing Piglet to retry catching it.
Playable characters
| Character | Controls | Notes |
| --- | --- | --- |
| Pooh | Left, up, and right arrow keys | |
| Piglet | Up and down arrow keys | Used only to catch letters |
Non-playable characters
Owl
Eeyore
Rabbit
Christopher Robin
Ad blocker interference detected!
Wikia is a free-to-use site that makes money from advertising. We have a modified experience for viewers using ad blockers

Wikia is not accessible if you've made further modifications. Remove the custom ad blocker rule(s) and the page will load as expected.