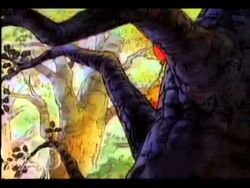 The Floating Song is a song that was sung by Winnie the Pooh in "Balloonatics" from The New Adventures of Winnie the Pooh as he admires the balloon Christopher Robin let him borrow.
Lyrics
Here we go floating
Anywhere we please
Holding you tight as I can

You're safe as a honey pot
You always will be
And I'll be right there when we land

You're snuggly-wuggly
Snug as a bug-gly (chuckles)
You're snuggly safe in my hands

(Sing-a-Song version repeats the above)
Trivia
This song later served as the opening song for the Ready to Learn CD-ROM series.
Ad blocker interference detected!
Wikia is a free-to-use site that makes money from advertising. We have a modified experience for viewers using ad blockers

Wikia is not accessible if you've made further modifications. Remove the custom ad blocker rule(s) and the page will load as expected.