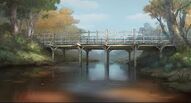 Poohsticks Bridge
is place in the Hundred Acre Wood.
Winnie the Pooh Franchise
Poohsticks Bridge appears in almost every episode and type of The Winnie The Pooh cartoons. It even appears in the Winnie the Pooh Movie and The Tigger Movie.
Kingdom Hearts
Poohsticks Bridge appears in Kingdom Hearts.
What is Poohsticks Bridge for?
Hence the name Poohsticks Bridge, it is mainly for playing Poohsticks, a game enjoyed by all of the Hundred Acre Wood.
Ad blocker interference detected!
Wikia is a free-to-use site that makes money from advertising. We have a modified experience for viewers using ad blockers

Wikia is not accessible if you've made further modifications. Remove the custom ad blocker rule(s) and the page will load as expected.