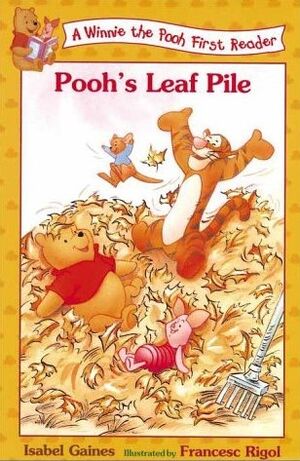 Pooh's Leaf Pile' is a Winnie the Pooh First Reader Book written by Isabel Gaines and illustrated by the company Studio Orlando, ISBN 0-439-14896-0. The plot of the book focuses on Pooh and Piglet going outside to play on a lovely fall day. When Pooh hears a strange crunching noise, they discover that there is a pile of leaves in Pooh's yard. They find them pretty, but Rabbit declares them to be a mess that must be cleaned up. Then, Christopher Robin comes to play and shows everyone how leaves can be fun.
Characters
Ad blocker interference detected!
Wikia is a free-to-use site that makes money from advertising. We have a modified experience for viewers using ad blockers

Wikia is not accessible if you've made further modifications. Remove the custom ad blocker rule(s) and the page will load as expected.