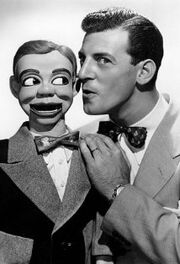 Paul Winchell (December 21, 1922 - June 24, 2005) voiced Tigger in The Many Adventures of Winnie the Pooh. He won a Grammy for his final performance as Tigger in Winnie the Pooh: A Valentine for You.
Beginning with the television series The New Adventures of Winnie the Pooh, he alternated in the role with Jim Cummings, the current voice of Pooh. And Tigger Too. His final role as Tigger was in Winnie the Pooh: A Valentine for You. He was originally going to return and suppose to voice Tigger for The Tigger Movie (2000) but his voice was too scratchy to voice the character that Jim Cummings took over instead. Winchell has a daughter named April Winchell who is also a voice actress. Paul Winchell died in his sleep at his home on June 24th, 2005.
John Fiedler who was the voice of Piglet, died the day after on June 25th 2005.
Winnie the Pooh filmography
Ad blocker interference detected!
Wikia is a free-to-use site that makes money from advertising. We have a modified experience for viewers using ad blockers

Wikia is not accessible if you've made further modifications. Remove the custom ad blocker rule(s) and the page will load as expected.