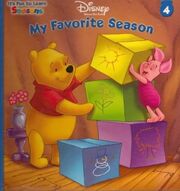 My Favorite Season is the 4th book in the It's Fun to Learn series, written by K. Emily Hutta and illustrated by Atelier Philippe Harchy, ISBN 1-57973-129-5.
The story opens in Piglet's house on a rainy spring day, the sort of day that makes Piglet feel like cleaning something. Yet when he opens his closet door, he ends up creating a huge mess. His friends arrive and they find many things of interest within Piglet's stuff. Everyone shares fond memories together of playing throughout the seasons.
The book includes a Fun to Learn Activity that asks the reader to find all the things the characters did in different seasons, then asks the reader their favorite season and what they like to at that time of year.
Characters
Ad blocker interference detected!
Wikia is a free-to-use site that makes money from advertising. We have a modified experience for viewers using ad blockers

Wikia is not accessible if you've made further modifications. Remove the custom ad blocker rule(s) and the page will load as expected.