"
Little Black Rain Cloud
" is a song from the
1966
short film
Winnie the Pooh and the Honey Tree
, the first
Winnie the Pooh
cartoon by
Walt Disney
. The song was also subsequently incorporated into the
1977
movie
The Many Adventures of Winnie the Pooh
, which is an amalgamation of the three previous
Winnie the Pooh
featurettes,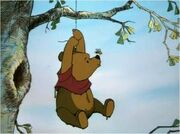 including
Honey Tree
.
In the song Pooh comments about the on-screen actions where he is pretending to be a "Little Black Rain Cloud", as the title implies. It is Pooh's hope that the bees will not notice him as he approaches their ever coveted honey.
The song was written by Robert & Richard Sherman, who have written most of the music for the Winnie the Pooh franchise over the years.
Lyrics
I'm just a little black rain cloud
Hovering under the honey tree
I'm only a little black rain cloud
Pay no attention to little me
Everyone knows that a rain cloud
Never eats honey, no, not a nip
I'm just floating around over the ground
Wondering where I will drip
Video
Ad blocker interference detected!
Wikia is a free-to-use site that makes money from advertising. We have a modified experience for viewers using ad blockers

Wikia is not accessible if you've made further modifications. Remove the custom ad blocker rule(s) and the page will load as expected.