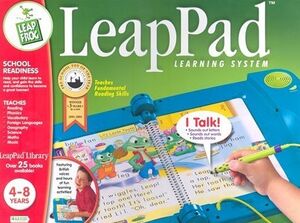 The LeapPad Learning System is an educational device from LeapFrog. It is intended for use in conjunction with books designed for it, which include many popular characters, including the original LeapFrog characters, The Cat in the Hat, Spongebob Squarepants and numerous Disney characters, including Pooh and his friends. The LeapPad features a device called a "Magic Pen" which allows stories to come to life. It is extremely popular as an educational system, with an average rating on Amazon.com of 4.3/5 and well over 400 reviews. It is rated for ages 4-8, but can be enjoyed by other children. It is available in a number of alternate models, including the "LeapPad Pro" and "Quantum LeapPad." The LeapPad has since been supplanted by a learning system known as "Tag," but remains generally available for purchase.
Winnie the Pooh LeapPad Titles
LeapPad Interactive Book: A Collection from the LeapPad Library (Includes the story Winnie the Pooh: A Sweet Good Morning)
Pooh Loves You
Pooh's Honey Tree (My First LeapPad Book)
Pooh Gets Stuck
Bounce, Tigger, Bounce
Lots and Lots of Honeypots
More to Explore
Ad blocker interference detected!
Wikia is a free-to-use site that makes money from advertising. We have a modified experience for viewers using ad blockers

Wikia is not accessible if you've made further modifications. Remove the custom ad blocker rule(s) and the page will load as expected.