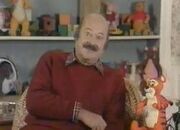 Laurence George "Laurie" Main (November 29, 1922 - February 8, 2012) was an Australian actor best known for hosting and narrating the series Welcome to Pooh Corner, which aired in the 1980s to 1990s.
He also served as narrator for Winnie the Pooh Discovers the Seasons, Winnie the Pooh and a Day for Eeyore, Winnie the Pooh: Seasons of Giving, and also the story reader on many Disney Read-Along records, audio cassettes and CDs.
Main died on February 8, 2012 in Los Angeles, California at the age of 89.
Ad blocker interference detected!
Wikia is a free-to-use site that makes money from advertising. We have a modified experience for viewers using ad blockers

Wikia is not accessible if you've made further modifications. Remove the custom ad blocker rule(s) and the page will load as expected.