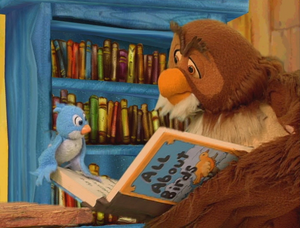 Kessie Wises Up is the first segment of the twentieth episode from the first season of The Book of Pooh. It originally aired on February 10th, 2001.
Plot
Upset about her limited knowledge, Kessie asks Owl to teach her everything so she will be better able to help her friends when they need. But Owl insists that knowledge must be acquired gradually and partially be first hand experience. When Kessie gets lost in the woods with Pooh, Piglet and Tigger, she learns how helpful even the littlest bit of knowledge can be.
Song
Trivia
Ad blocker interference detected!
Wikia is a free-to-use site that makes money from advertising. We have a modified experience for viewers using ad blockers

Wikia is not accessible if you've made further modifications. Remove the custom ad blocker rule(s) and the page will load as expected.