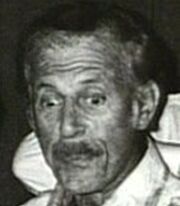 Junius Matthews (June 12th 1890 - January 18th 1978) was the first actor to voice Rabbit in the Winnie the Pooh Series.  He voiced Rabbit in Winnie the Pooh and the Honey Tree (1966), Winnie the Pooh and the Blustery Day (1968), Winnie the Pooh and Tigger Too (1974), and The Many Adventures of Winnie the Pooh (1977) which was his final film.  Another famous voice he did for Disney was Archimedes the Owl in The Sword in the Stone (1963).
Junius Matthews died on January 18th 1978 in Los Angeles C.A. at the age of 87. He is buried at Forest Lawn Memorial Park in L.A.
Ad blocker interference detected!
Wikia is a free-to-use site that makes money from advertising. We have a modified experience for viewers using ad blockers

Wikia is not accessible if you've made further modifications. Remove the custom ad blocker rule(s) and the page will load as expected.