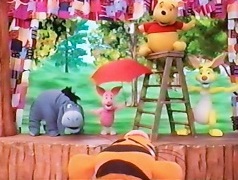 I Could Have Laughed All Night
is an episode from Season 1 of
The Book Of Pooh. 
In this episode,
Kessie
tells
Tigger
that his laugh is funny, but mistaking it for an insult,
Tigger
vows never to laugh again. The misunderstanding is quickly cleared up, but when
Tigger
tries to laugh again, he can't!
January 28, 2001
Trivia
Song
Ad blocker interference detected!
Wikia is a free-to-use site that makes money from advertising. We have a modified experience for viewers using ad blockers

Wikia is not accessible if you've made further modifications. Remove the custom ad blocker rule(s) and the page will load as expected.