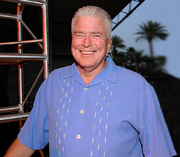 Huell Burnley Howser (October 18, 1945 – January 7, 2013) was an American television personality, actor, singer, voice artist, and comedian. He voiced the Backson in Winnie the Pooh (2011).
On January 7, 2013, Howser died in his Palm Springs, California home at age 67 of prostate cancer (which he had battled for years), 9 months before his 68th birthday.
Sources
Ad blocker interference detected!
Wikia is a free-to-use site that makes money from advertising. We have a modified experience for viewers using ad blockers

Wikia is not accessible if you've made further modifications. Remove the custom ad blocker rule(s) and the page will load as expected.