"
Hip Hip Pooh-Ray!
" is a song from the
1968
feat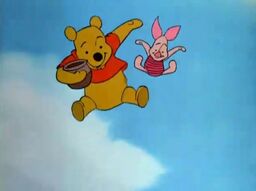 urette
Winnie the Pooh and the Blustery Day
. It is sung by the cast as a release from the dramatic tension of the story. The song is also incorporated into the
1977
film
The Many Adventures of Winnie the Pooh
, which is an amalgamation of three
Winnie the Pooh
featurettes, including
Blustery Day
.
The song was written by the Sherman Brothers, Richard M. Sherman and Robert B. Sherman who have written most of the music for the Winnie the Pooh franchise over the years.
Lyrics
All: We never will forget,
Our hero of the wet,
Our quick-thinking, unsinking Pooh Bear. (Tigger: Hoo-Hoo-Hoo-Hoo!)

All: And Piglet, who indeed,
Helped out a friend in need,
A'truly they're the heroes of the day!

So we say...
Hip, hip, hooray,
For the Piglet and the Pooh.
Piglet and Pooh, we salute you.
For deeds of bravery,
And generousity,

Hip, hip, hooray,
Hip, hip, hooray,
Hip, hip, hooray, for Winnie-the-Pooh!
Piglet: And Piglet, too.
Notes
In the video when this song was sung, Gopher gets distracted until Christopher Robin's coat sends him back to the hole.
Ad blocker interference detected!
Wikia is a free-to-use site that makes money from advertising. We have a modified experience for viewers using ad blockers

Wikia is not accessible if you've made further modifications. Remove the custom ad blocker rule(s) and the page will load as expected.