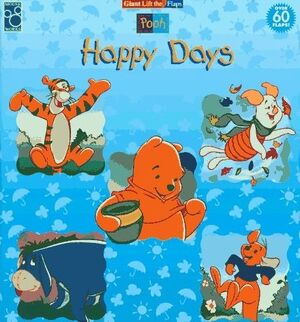 Happy Days is a Winnie the Pooh Giant Lift the Flaps book with over 60 flaps. It was published in 1998 by Mouse Works, written by Sarah Willson, penciled by Jim Valeri and painted by the company DiCicco Digital Arts, ISBN 1-57082-723-0. Rather than featuring a story, the book depicts a number of scenes, such as Pooh looking for his friends or Rabbit enjoying a rain shower that's helping his garden to grow.
Characters
Ad blocker interference detected!
Wikia is a free-to-use site that makes money from advertising. We have a modified experience for viewers using ad blockers

Wikia is not accessible if you've made further modifications. Remove the custom ad blocker rule(s) and the page will load as expected.