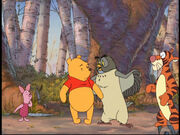 Girls are Like Boys is a Winnie the Pooh song from the television special: Winnie the Pooh: A Valentine for You where Owl sings the differences of girls and boys.
Song Lyrics
Girls are Like Boys, except they're quite different
Even they're differences are not the same
A boy sputters and squawks
A girl putters and preens
And each wants to say what the other one means
Girls are Like Boys, except they're quiet different
Because of their differences, each is unique
A girl sees what she likes
A boy likes what he sees
He ruffles her feathers, she wobbles his knees
In some certain way, a boy looks at a girl
A girl looks at a boy in similar ways
A girl and a boy
Well, what more can I say?
They're as different as dawn is to morning each day
They're really quite different in every way
Ad blocker interference detected!
Wikia is a free-to-use site that makes money from advertising. We have a modified experience for viewers using ad blockers

Wikia is not accessible if you've made further modifications. Remove the custom ad blocker rule(s) and the page will load as expected.