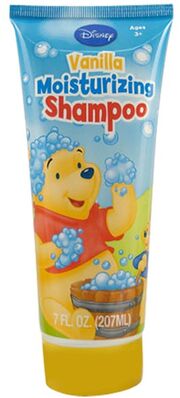 Disney Vanilla Moisturizing Shampoo is a shampoo featuring Pooh covered in bubbles on the packaging with Roo seen off the right. It is rated as being safe for ages 3+.
Instead of coming in a bottle like most shampoos, this shampoo comes in a 7 oz. (207 ml.) tube. It carries a standard retail price of $3.48, but is generally found online from wholesalers in lots of 192 at a substantial discount.
Ad blocker interference detected!
Wikia is a free-to-use site that makes money from advertising. We have a modified experience for viewers using ad blockers

Wikia is not accessible if you've made further modifications. Remove the custom ad blocker rule(s) and the page will load as expected.