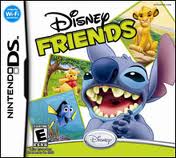 Disney Friends
is a game where you take care of four people from Disney franchises, Stitch, Dory, Winnie the Pooh and Simba. Before you start with one of those four, you have to train with the Little Green Man from Pixar's Toy Story first.
Characters
Below are the Winnie the pooh characters who appear in the game.
Ad blocker interference detected!
Wikia is a free-to-use site that makes money from advertising. We have a modified experience for viewers using ad blockers

Wikia is not accessible if you've made further modifications. Remove the custom ad blocker rule(s) and the page will load as expected.