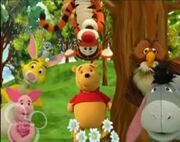 A Day in the Life of a Pooh
is a song from "
Pooh's to Do
," a story from
The Book of Pooh
.
Pooh
was very late for meetings, so after a failed attempt to make Pooh more on time, the gang had Pooh share what he does every day so that
Rabbit
could create the perfect schedule for him.
Ad blocker interference detected!
Wikia is a free-to-use site that makes money from advertising. We have a modified experience for viewers using ad blockers

Wikia is not accessible if you've made further modifications. Remove the custom ad blocker rule(s) and the page will load as expected.