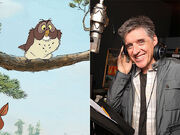 Craig Ferguson (born on May 17, 1962) is a Scottish actor and TV host who provided the voice of Owl in the 2011 Winnie the Pooh film replacing long time voice actor Andre Stojka.
Since 2005, Ferguson has hosted his own late night TV show,
The Late Late Show with Craig Ferguson
. He voiced Lord Macintosh and Young Lord Macintosh in
Disney
and Pixar's
Brave
.