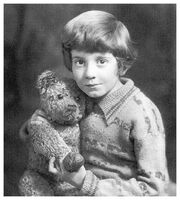 Christopher Robin Milne (21 August 1920 – 20 April 1996) was the son of Winnie the Pooh creator A.A. Milne. A.A. Milne wrote the original Pooh stories for his son, Christopher. Christopher helped his father to write some of the books, but had to endure taunts about the stories from his classmates and grew distant from them. Robin Milne published three autobiographical books, The Enchanted Places, Path Through the Trees and House on the Hill.
More to Explore
Ad blocker interference detected!
Wikia is a free-to-use site that makes money from advertising. We have a modified experience for viewers using ad blockers

Wikia is not accessible if you've made further modifications. Remove the custom ad blocker rule(s) and the page will load as expected.