"This could be the room of any small boy, but it happens to belong to Christopher Robin."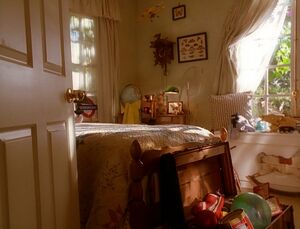 Christopher Robin's Room is the opening setting for many of the Winnie the Pooh stories, particularly the Disney productions. In a number of the films and television specials, the characters are shown as stuffed toys residing in Christopher Robin's room, suggesting that they come to life in his imagination. In some stories in The New Adventures of Winnie the Pooh, however, the actual characters are occasionally shown visiting Christopher Robin's room.
In The Book of Pooh, the appearance of Christopher Robin's room has somewhat changed to reflect that he is now attending school. This series depicts The Book of Pooh as an actual physical object residing Christopher Robin's room, in which the stories of the show take place. Like on New Adventures, there are occasions in this series in which the characters are shown in Christoper Robin's room, most notably the Stories from the Heart DVD release, in which all of the opening, interstitial and ending content takes place in the room.
Christopher Robin's room does not appear in My Friends Tigger & Pooh, as the main human character and Christopher Robin is only seen on two occasions.
Trivia
Gallery
Ad blocker interference detected!
Wikia is a free-to-use site that makes money from advertising. We have a modified experience for viewers using ad blockers

Wikia is not accessible if you've made further modifications. Remove the custom ad blocker rule(s) and the page will load as expected.